Girls Orphanage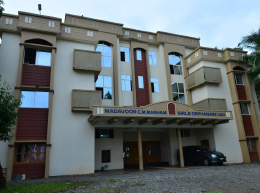 On 9th July, 2008, Janab.Panakkad Sadiquali Shihab Thangal inaugurated the functioning of Girls Orphanage...
Madavoor C M Valiyyullahi Makham Orphanage is an Institution which was started at Madavoor C.M Makham Darga Shareef, Kozhikode District in 1997, which aims the cultural and spiritual development of the growing students of the society. This was formed as the results of heart ship of gentle and kind people. We started the LP, UP School with the high standards and discipline in a religious atmosphere at Muttanchery. The Orphanage is giving both material and spiritual education to nearly 400 students comprising to orphans, most of them are hailing from poor families. Al Hamdlillah, we are proud of having a well equipped hostel facilities for boys and also being given job oriented studies as well religious teachings so as to mould them with Islamic spirit and culture.
Our aim is To provide quality education, better healthcare, accommodation and vocational training to orphans and destitute and thereby providing better citizen to society and nation.
We providing * Free education from preschool to master degree * Dedicated and well trained Usthads and wardens Spiritual atmosphere and ideal campus for learning * Career opportunity in Islamic education, engineering, medical, law journalism and other branches according to student's willingness and caliber * Well furnished bedrooms and hygienic canteen.
The prophet once said; " I and the one who takes responsibility for an orphan, whether of his own kin or of others, will be in paradise thus, " and he pointed his forefinger and middle-finger with a slight space between them.